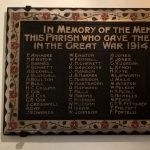 Age: 21
Date of birth: February 1897
Parents: Alfred and Sarah Elizabeth Aston
Wife:
Address: 33 Pickard Street
Occupation:

Henry Amos Aston was born in 1897, to Alfred and Sarah Aston.  He was baptised on 11th February 1897.
At the time of the 1901 Census, Henry, aged 4, was living with his parents and 4 siblings at 5 Pickard Row, Warwick. His older brother (aged 7) was also called Alfred; his older sisters were Doris (9) and Ellen (6) and his younger brother was William (2).
In 1911 Henry and the rest of his family were living in Pickard Street and he was working as a Brickyard Labourer.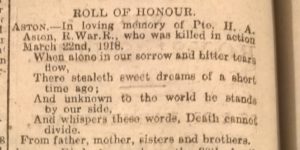 Military Service
Rank & Number: Private, 266556
Regiment/Service: 10th (Service) Battalion, Royal Warwickshire Regiment
Brigade/Division: 57th Brigade, 19th Division
Date of death: Friday, March 22, 1918
Cause of death/Battle: Killed in Action - Battle of St Quentin
Commemorated/Buried: Arras Memorial, Pas de Calais
Awards: 1914-15 Star, British War Medal, Victory Medal
Commemorated locally at: All Saints Church, All Saints Church
Contributors
Unlocking Warwick Research Group
Warwick Advertiser excerpts courtesy of Warwickshire County Record Office