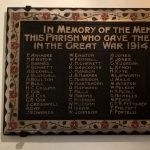 Age: 23
Date of birth: 1893
Parents: William and Esther Gascoigne nee Heeeks
Wife: Single
Address: 74 Avon Street
Occupation: Cabinet Maker

Alan Gascoigne was born in Warwick in 1893, the son of William and Esther Gascoigne.
Alan was the youngest of six children.  He had three brothers – William (b.1876), Herbert (b.1879), John (born and died 1887) and two sisters – Elizabeth (b. 1884) and Esther Louise (b. 1889).
The family lived at 74 Avon Street for many years and William was an Upholsterer and French Polisher. Alan's older brother Herbert went into the same trade.  In 1911 Alan was a Cabinet maker.
Military Service
Rank & Number: Private, 20717
Regiment/Service: 1st/6th Battalion, Royal Warwickshire Regiment
Brigade/Division: 143rd Brigade, 48th Division
Date of death: Sunday, October 15, 1916
Cause of death/Battle: Died of wounds
Commemorated/Buried: Warlingcourte Halte British Cemetery, Pas de Calais
Awards: British War Medal, Victory Medal
Commemorated locally at: All Saints Church
Contributors
Warwick Advertiser excerpt courtesy of Warwickshire County Record Office
Unlocking Warwick Research Group