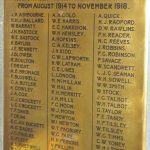 Age: 21
Date of birth: December 1892
Parents: John and Isabella Gold (nee Jackson)
Wife:
Address: 19 Queens Square
Occupation: Labourer at Gelatine Works

Albert was born in the latter part of 1892 and was baptised on January 11th 1893 at St Pauls Church in Warwick. At the time his parents, John and Isabella, were living at 19 Yardley Terrace and John was working as a fitter.
At the time of the 1901 census, Albert was living with his parents and 3 siblings at 19 Queens Square, Warwick.
The 1911 census shows the family still at 19 Queen's Square, by which time Albert had another sister. His father was a fitter in the motor trade, working at a motor works. Albert, aged 18, was the eldest child and was working as a labourer at the Nelson Dale Gelatine Works. His siblings were William (16) working as a grocer's assistant, Mable (13), Annie (10) and Vera (1)
Military Service
Rank & Number: Rifleman, 10636
Regiment/Service: C Company, 2nd Battalion, King's Royal Rifle Corps
Brigade/Division: 2nd Brigade, 1st Division
Date of death: Friday, October 30, 1914
Cause of death/Battle: Died of wounds at Gheluvelt
Commemorated/Buried: Menin Gate
Awards: 1914 Star and Clasp, British War Medal, Victory Medal
Commemorated locally at: St Pauls Church
At the outbreak of war the battalion was stationed at Blackdown. He arrived in France on Thursday 13 August 1914.
Contributors
Unlocking Warwick Research Group