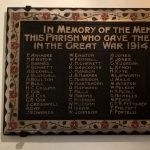 Age: 32
Date of birth: 1885
Parents: George and Mary Ann Harrison
Wife: Rose Harrison (nee Horsman)
Address: 37 Queens Square
Occupation: Labourer

Edward was born in Warwick in July 1885. He was the only child of George and Mary Ann Harrison. He was baptised on 2nd August 1885 at St Paul's Church.
He married Rose Horsman in Warwick in 1906 and in the same year they had a son George Edward. In 1911 the family were living at 37 Queen's Square, Warwick and Edward was working as a general labourer.
In 1939 Edward's son George was living with his wife Ellen at 35 Queen's Square. George died in 1987 aged 81.
Military Service
Rank & Number: Private, 9745
Regiment/Service: 2nd Battalion, Royal Warwickshire Regiment
Brigade/Division: 22nd Brigade, 7th Division
Date of death: Sunday, September 03, 1916
Cause of death/Battle: Killed in Action - Battle of Guillemont
Commemorated/Buried: Thiepval Memorial, Somme
Awards: 1914-15 Star, British War Medal, Victory Medal
Commemorated locally at: St Pauls Church, All Saints Church
Contributors
Unlocking Warwick Research Group
Warwick Advertiser excerpt courtesy of Warwickshire County Record Office