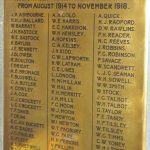 Age: 19
Date of birth: 1899 (Q1)
Parents: Thomas William and Margaret Latham
Wife:
Address: 9 West Rock
Occupation: Baker's errand boy?

Herbert was baptised on 2nd April 1899 at St Mary's Warwick. At the time his parents were living at 5 Chapel Street and his father was a labourer.
At the time of the 1901 census, when Herbert was 2, the family was living at 29 Lower Cape, Warwick and he had an older brother Charles and a baby brother Ernest.
By the time of the 1911 census, Herbert also had a sister, Margaret, aged 5. The family were still living at 29 (Waterside) Lower Cape. His brother Charles (14) was working as an errand boy for a baker's shop and Herbert and Ernest were at school.
Bizarrely, Herbert twice appeared as a witness at the inquest into the suicide of women who died by drowning in the canal, first in October 1915 and then in May 1916. In the first instance, he had seen the woman at around 10.15pm, not long before she died, when cycling along the canal towpath. In December 1915 Herbert was fined 5s for riding his bike without a light, at night, on Victoria Street, so it seems that he used his bike to get out and about in the evenings.
The notice of Herbert's death says that he worked for Mrs Bromwich of Saltisford, although we don't know whether he was a delivery boy or worked in the bakery.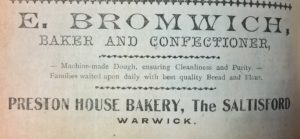 Herbert's older brother Charles lived through both World Wars and died in Warwick in 1985, aged 88.
Military Service
Rank & Number: Private, 44622
Regiment/Service: 8th (Service) Battalion, Princess Charlotte of Wales (Royal Berkshire Regiment)
Brigade/Division: 53rd Brigade, 18th Division
Date of death: Monday, November 04, 1918
Cause of death/Battle: Killed in Action - Battle of the Sambre
Commemorated/Buried: Montay-Neuvilly Road Cemetery, Nord
Awards: British War Medal, Victory Medal
Commemorated locally at: St Pauls Church
Contributors
Unlocking Warwick Research Group
Warwick Advertiser excerpt and Spennell's advertisement courtesy of Warwickshire County Record Office