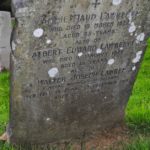 Age: 22
Date of birth: 1893 (Q2)
Parents: William and Annie Lawrence
Wife:
Address: 19 North Rock, Saltisford
Occupation: Baker's apprentice

Walter was baptised at St Mary's Church on May 21st 1893. At the time, his parents were living at 12 Commercial Buildings, Saltisford and his father was a gardener.
By the 1901 census, William and Annie had 5 children and the growing family had moved to 19 North Rock, Saltisford.
The 1911 census shows Walter, aged 18, as the third of eight sons, William Thomas, Ernest Charles, Arthur, Percy, Alfred, Albert and Frederick James and he also had two sisters Annie and May. The family of 12 was still living at 19 North Rock, Saltisford and William Snr was still working as a gardener. Walter's eldest brother, William was working as a Jobbing Gardener and one of his younger brothers, Arthur, was a Gardener's Apprentice. Earnest and Annie were both employed at the Gelatine Works. Walter was a baker's apprentice. The 1914 Spennell's Trade Directory lists four bakers on Saltisford.
Warwick Advertiser 25th December 25th 1915 – In Memoriam:
Private W.J. Lawrence 17th Royal Warwickshire Regiment died somewhere in France December 5th 1915 aged 22.
The blow was bitter, the sting severe
To part with one we loved so dear
Although he's gone, we'll not complain
But trust in God to meet again.
Military Service
Rank & Number: Private, 2921
Regiment/Service: 1st/7th Battalion, Royal Warwickshire Regiment
Brigade/Division: 143rd Brigade, 48th Division
Date of death: Sunday, December 05, 1915
Cause of death/Battle: Killed in action
Commemorated/Buried: Villers-Bocage Communal Cemetery, Somme
Awards: 1914-15 Star, British War Medal, Victory Medal
Commemorated locally at:
Contributors
Unlocking Warwick Research Group
Warwick Advertiser excerpt courtesy of Warwickshire County Record Office