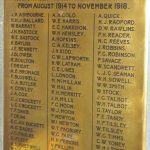 Age: 28
Date of birth: 1889 (Q2)
Parents: William John and Harriett Ann Lines
Wife: Lucy Anne Lines
Address: 2, Providence Row, Drinkwater Street, Shrewsbury
Occupation: Carpenter

Cecil was baptised on 15th May 1889 at St Paul's Warwick. At the time his parents were living at 99 West Street and William was working as a carpenter.
In 1891 the family, consisting of William and Harriett and William (4), Cecil (1) and Marianne (8 months) were living at 4 Pickard Street.
At the time of the 1901 census, Cecil, aged 11, was living in the village of Shrewley, northwest of Warwick, with his parents and older brother William, now an apprentice bricklayer, and a younger brother Sidney L (7). Marianne died in 1892.
Cecil married in Q3 1910, at Atcham, Shropshire and in 1911, he and his new wife Lucy were living at 2, Providence Row, Drinkwater Street, Shrewsbury. Cecil was working as a carpenter at the County Asylum.
Warwick Advertiser 26th January 1918 – Roll of Honour

Military Service
Rank & Number: Private, 116089
Regiment/Service: 26th Battalion, Machine Gun Corps (Infantry)
Brigade/Division:
Date of death: Wednesday, January 09, 1918
Cause of death/Battle: Killed in action
Commemorated/Buried: Fins New British Cemetery, Somme
Awards: British War Medal, Victory Medal
Commemorated locally at: St Pauls Church
Contributors
Unlocking Warwick Research Group
Warwick Advertiser excerpt courtesy of Warwickshire County Record Office