Littlewood, Robert Ralph Victor (Ralph)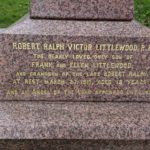 Age: 18
Date of birth: 1898
Parents: Frank Littlewood and Ellen Maud Mary Littlewood (nee Ralph)
Wife:
Address: Melbourne Cottage, 4 Priory Road
Occupation:

Robert (Ralph) was born in County Antrim, Belfast in 1898. His family returned to Warwick for his Christening at All Saints Church, Warwick on 12th July 1898.  He had one sister, Dorothy Jane, who was two years his junior, who also born in Belfast and also came back to Warwick for her Christening in 1901.
Ralph's father Frank and his mother Ellen were married at All Saints Church, Warwick in 1896. Frank was a boilermaker and according to the 1901 Census of Ireland the family were living at 9 Alexandra Avenue, Duncairn Ward, Antrim. They also had 18 year old Alice Lamb living with them as a general servant.
By the 1911 census the family had moved back to Warwick and were living at 4 Priory Road.  Ralph attended Warwick School.
Ralph was going to train as a Civil Engineer – just before he died he was informed that he had passed the preliminary examination.  He was articled to Stratford upon Avon Borough.  He did not serve overseas
Ralph's mother Ellen died in 1923 aged 49. His father died in Cheshire in 1938 aged 67.  His sister, Dorothy, married Frank Henry Plummer in London in 1931. He was a barrister and had served in the war as a Second Lieutenant in the East Kent Regiment. They didn't have any children. Dorothy seems to have been quite adventurous because on 8th February 1930, the year before she was married she travelled on board the passenger ship Ulysses from Liverpool to Cape Town, South Africa.  Her occupation is recorded as a Diocesan Lecturer. She returned to Southampton from Cape Town on 12th May 1930 on board the passenger ship Balmoral Castle. Dorothy's husband died in 1948 aged 49. Dorothy died in Brighton in 1963 aged 62.
Military Service
Rank & Number: Pioneer, 255365
Regiment/Service: Signal Depot, Fenny Compton, Stratford, Royal Engineers
Brigade/Division:
Date of death: Tuesday, March 27, 1917
Cause of death/Battle: Died at home
Commemorated/Buried: Milverton Cemetery, Leamington Spa
Awards: Did not serve overseas - no medal entitlement
Commemorated locally at: Warwick School
Contributors
Unlocking Warwick Research Group
Warwick Advertiser excerpts courtesy of Warwickshire County Record Office