Age: 31
Date of birth: 1885
Parents: Lord and Lady Algernon Percy
Wife: Single
Address: Guy's Cliffe House
Occupation: Various Civic duties

Algernon William Percy's name is not on the war memorial which is surprising because, at its unveiling in 1921, the special guest was the High Sheriff of Warwickshire, Lord Algernon Percy of Guy's Cliffe House. Lord Percy was the second son of the Duke of Northumberland. Algernon William was his only son and the heir to Guy's Cliffe.  This explains why Algernon's name appears on the war memorial located at Old Milverton Church.
Born in 1884, Algernon William, known as Bobby, was a delicate child and was taught at home at Guy's Cliffe until he went to Christ Church, Oxford, in 1904. He studied there for only a year. Back in Warwick he became involved in civic life. He was appointed a Justice of the Peace, and served as a County Councillor. He was a member of the Prison Visiting Committee and the Hospitals Committee for the County.
At the outbreak of war he enlisted and obtained a commission in the R.N.Reserve, serving first on the Catania, a luxury steam yacht requisitioned for minesweeping in the Solent. In 1915 he was transferred as a Sub-Lieutenant to HMS Queen Mary, one of the latest battlecruisers, fast and lightly armoured for offensive action. He was clearly delighted and wrote to his uncle, the Duke, "I am looking forward to it so much … I don't think I was wrong in taking it (a commission in the Navy) …and I couldn't sit at home doing nothing".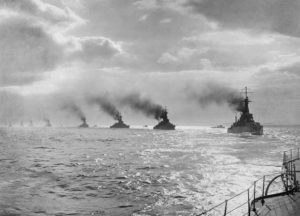 But Bobby's career aboard the Queen Mary was interrupted by illness and he spent a considerable time on sick leave.
It wasn't until Monday 29th May 1916 that he was able to rejoin his ship, just two days before the Battle of Jutland, the largest battle in naval history which was to claim more than 8,500 lives.
HMS Queen Mary was hit twice by shells from the German Battlecruiser Derfflinger, and blew up. Bobby actually survived the first explosion which broke the ship in two, and found himself relatively unhurt in the water. As the ship's magazines blew up he was struck in the forehead by a flying splinter, but according to a surviving officer who was with him, he was 'quite alright'. A destroyer appeared through the smoke to pick them up, but about 15 swimmers including Bobby were missed.
The survivor, who later wrote to Lord Percy from a German prisoner of war camp, said they had become cold in the North Sea water and affected by oil fumes, and at that point Bobby offered him his life jacket, which he said he refused. He was picked up by a German ship; Bobby had disappeared. Just 18 of Queen Mary's crew of 1,264 had survived.
A few weeks later Bobby's body was washed up with many others near Fredrikstad in Norway. On 20th June there was a mass military funeral there, attended by 'an English lady' living nearby. She described the scene in a letter to her niece, observing, 'One officer had a ring with the initials A.W.P. and a crest engraved on his gold cuff-buttons.'
By coincidence the niece lived in Northumberland and could inform Lady Algernon Percy of her son's death and burial in Norway.
A senior naval officer wrote to the family about Algernon William, 'He had such a gallant big heart, always battling against delicate health and never flinching from anything because of it'.
Another wrote, 'His character was one of transparent truthfulness and honesty; he was one of those not very common men who are absolutely incapable of a dishonourable action, and thus did us no end of good by simply living with us'.
'Bobby's' grave in Norway is a fine memorial surmounted by a cross. He is also remembered on the war memorial in the graveyard of the Church of St. James the Great at Old Milverton, just across the Avon from his family home at Guy's Cliffe House.
Military Service
Rank & Number: Sub-Lieutenant,
Regiment/Service: Royal Naval Reserve
Brigade/Division:
Date of death: 31 May 1916
Cause of death/Battle: Battle of Jutland
Commemorated/Buried: Fredrikstad Military Cemetery, Norway
Awards:
Commemorated locally at: Old Milverton Church
Algernon William Percy enlisted into the Royal Naval Reserve, serving first on a minesweeper called Catania operating in the Solent and the Channel, then later transferred to the battlecruiser HMS Queen Mary.
Contributors
Unlocking Warwick research team
Graham Sutherland