Constable, Frederick Henry (Fred)
Age: 27
Date of birth: 1914 (Q4)
Parents: William Ernest and Renee Kate Constable (nee London)
Wife:
Address: Bowling Green Street, Warwick (parents' home)
Occupation: Farmer

Fred was born in Witney, Oxfordshire during the third quarter of 1914. He had an older brother, William John, born in 1912.
His father William Ernest (1888-1967) was a farmer. His mother Renee Kate (1886-1967) was born in Warwick and baptised at St Paul's Church. William and Renee married in Warwick in 1911.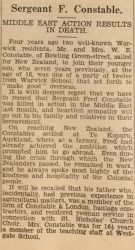 Fred attended Warwick School. This article in the Warwickshire Advertiser tells how Fred emigrated to New Zealand in 1930, with a group of other Warwick School boys, not long before his 16th birthday. He departed Southampton on 19th August 1930 for Wellington aboard the ship Rangitata and his parents joined him 7 years later.
According to ships' passenger list records Fred's parents travelled back to England after the war, arriving back in London on 22nd September 1946.
Military Service
Rank & Number: Sergeant, 2668
Regiment/Service: 24th Battalion, 6th New Zealand Infantry Brigade, 2nd New Zealand Division
Brigade/Division:
Date of death: 27th November 1941
Cause of death/Battle: Killed in action
Commemorated/Buried: Buried in the Knightsbridge War Cemetery, Acroma, Tobruk, Libya
Awards:
Commemorated locally at:
Fred enlisted in Territorial Army in New Zealand.  By March 1940 he had left New Zealand as a corporal in the Second New Zealand Expeditionary Force.
Contributors
Unlocking Warwick Research Group
Warwick Advertiser excerpts courtesy of Warwickshire County Record Office
Cemetery photograph courtesy of Commonwealth War Graves Commission (CWGC)