Sleep, Leonard James (Len)
Age: 20
Date of birth: 24th January 1920
Parents: Ernest Alfred and Alice May Sleep (nee Aris)
Wife: Single
Address: 32 Wathen Road
Occupation: Factory Worker

Leonard was the 6th of 9 children, 5 boys and 4 girls, including two sets of twins: Ernest (1913-1999), William (1914-1996), Thomas (1914-1915), Margaret (1916-1949), Elsie (1917-1994), Beryl (1921-2000), Frederick (1925-1973) and Joan (1925-2006).
Leonard's father Ernest was born in Plymouth in 1885.  His mother Alice was born in 1892 in Claverdon, Nr Warwick. According to the 1911 census they were both working at Hatton Asylum, Alice as a servant and Ernest as an attendant. They married in 1913 in Warwick.
Ernest served as a private in the Devonshire Regiment during WW1. He then worked as a steel hardener. He died in 1929 aged 45.
According to the 1939 census Alice was living at 32, Wathen Road, Warwick with Elsie, Frederick and two others whose names are redacted.
In January 1939, Len was involved in an accident which not only made the local paper but was reported in the Birmingham Post
Although Len's death seems not to have been reported at the time, it is referred to in this item about his eldest brother, Ernest, which appeared in the Warwick Advertiser in December 1940.
When Alice died in 1980 aged 88 she was living at 14 The Chantry, Warwick.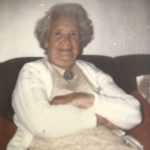 Military Service
Rank & Number: Private, 5109634
Regiment/Service: Royal Warwickshire Regiment
Brigade/Division: 7th Battalion
Date of death: Between 10th - 31st May 1940
Cause of death/Battle: Died from wounds at Dunkirk
Commemorated/Buried: Dozinghem Military Cemetery, Vleteren Arrondissement Ieper, West Flanders (West-Vlaanderen) Belgium
Awards: 1939-1945 War Medal, 1939-45 Star
Commemorated locally at:
According to the Warwick Advertiser item, Len was in the Territotials for 4 years and was 'embodied' into regular service at the outbreak of war.
Len died near Dunkirk and was buried at the Dozinghem Military Cemetery in Flanders.
Contributors
Unlocking Warwick research group
Photo of Alice Sleep courtesy of Len's niece, Belinda
Warwick Advertiser and Birmingham Post extracts courtesy of Warwickshire County Record Office
Cemetery photograph courtesy of Commonwealth War Graves Commission (CWGC)