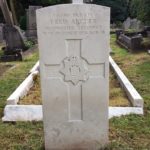 Age: 18
Date of birth: July 1900
Parents: Joseph and Sabina Archer
Wife:
Address: 7 Victoria Street
Occupation: Master's Clerk at Warwick Workhouse

The 1901 Census shows Joseph and Sabina Archer living with their 5 year old daughter Jeanette and their twin, 8-month old sons, Frederick and John Douglas at Hampton Road. There was also a servant and Joseph is listed as a farmer aged 55.
In 1910, the young Fred was keeping a scrapbook of postcards
At the time of the 1911 Census, there was a 77-year old Joseph Archer, widower, living at 7 Victoria Street, Warwick with a 45 year old daughter, Eleanor Elizabeth, twin sons Frederick and John Douglas (aged 10) and a 6 year old son, Edwin Arnold.
Twins Frederick and John with younger brother, Edwin
In this census, Joseph Archer is recorded as a caretaker of Public Grounds for Warwick Town Council.  Eleanor was Joseph's daughter from a previous marriage, who came to look after her half-brothers after their mother's death.
In 1912, Fred was away at School in Surrey and his sister sent him a postcard about the approaching holidays.

In September 1915, Fred was given a temporary appointment as Clerk to the Master of the Warwick Union.


*From 1834  parishes were grouped into "unions", jointly responsible for the administration of Poor Relief in their areas and each governed by a board of guardians.
Military Service
Rank & Number: Private, 80340
Regiment/Service: 4th (Reserve) Battalion, Devonshire Regiment
Brigade/Division:
Date of death: Thursday, October 31, 1918
Cause of death/Battle: Died of pneumonia in hospital in Ireland
Commemorated/Buried: Warwick Cemetery - CWGC section - 57 C 2
Awards: Did not serve overseas - no medal entitlement
Commemorated locally at: St Nicholas Church
Contributors
Norma Hampson – who has researched the Archer family for some years
Postcards and Workhouse letter courtesy of Warwickshire County Record Office
Unlocking Warwick Research Group
Warwick Advertiser excerpt courtesy of Warwickshire County Record Office