Age: 27
Date of birth: 20th May 1890
Parents: George and Sarah Bakewell
Wife: Elsie Lillian Bakewell (nee Iliffe)
Address: 28 Emscote Road
Occupation: Worked at Lloyds Bank, Leamington

George was born in Warwick on 20th May 1890 and baptised at St Nicholas Church on 24th August 1890. His parents were George (1848-1921) and Harriet Sarah (1859-1931) nee Sanford. George had two older sisters Charlotte (b1887), Mary (b1888) and two younger sisters Alice (b1894) and Emily (b1897).
According to the 1911 census the family lived at 54 Guy Street and George aged 20 was a bank clerk. George senior was a compositor.
George married Elsie Lillian Iliffe (1890-1947) on 28th August 1916 at St Mary's Church. They had one daughter Gwendoline Mary born on 10th June 1918 seven months after her father died.
Probate records show George left an estate of £502 4s 11d to his father. Having died just 15 months after his marriage it is possible he had not had the opportunity to change his will in favour of his wife.
Elsie died in 1947, aged 57, and was buried at the same church where she had married.
Gwendoline never married and died in 2009 aged 91.
Military Service
Rank & Number: Lieutenant, 138892
Regiment/Service: 21 Squadron, Royal Flying Corps
Brigade/Division:
Date of death: Friday, November 16, 1917
Cause of death/Battle: Died of wounds after his plane was shot down
Commemorated/Buried: Donningham Military Cemetery, Belgium
Awards: British War Medal, Victory Medal
Commemorated locally at: St Nicholas Church, Coten End School Roll of Honour for the Great War (as Corporal John BAKEWELL Warwickshire Yeomanry)
George initially enlisted in the Warwickshire Yeomanry on 18th November 1908 and served with 'B' Squadron
His medal index card confirms: Date of Entry into Theatre EGYPT 24 April 1915 – he arrived with the Regiment on the Troopship Saturnia. He remained behind in Egypt, among the third of the Regiment which did not go Gallipoli in August 1915.
He served with the Warwickshire Yeomanry during the Senussi Campaign in the Western Desert and was commissioned into the Royal Flying Corps on 29 January 1916. (confirmed in list of those commissioned from Warwickshire Yeomanry during WW1).
Warwick Advertiser 27th October 1917
"Second-Lieutenant G J Bakewell, Royal Flying Corps, has graduated as a flying officer observer, and has also been promoted Lieutenant, with seniority from July 30th"
This item in the Warwick Advertiser gives further detail of his military career and death.
Warwick Advertiser 24th November 1917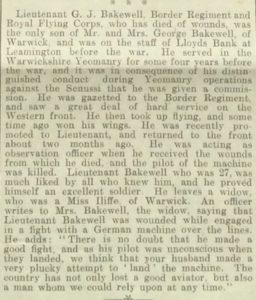 Contributors
Unlocking Warwick Research Group
Warwickshire Yeomanry Archivist
Warwick Advertiser excerpts courtesy of Warwickshire County Record Office