Age: 37
Date of birth: July 1878
Parents: David Levi and Hannah Ball
Wife: Gertrude Ling
Address: 45 Victoria Street
Occupation: Clerk at the County Accountants Office

Harry Ball was born in Macclesfield, Cheshire.
At the time of the 1901 Census, the family lived at 69 West Street, Warwick. The father was a carpenter and Harry, aged 22, was a railway clerk. The household included his younger sister, Florence (8) and his grandfather
Harry married Gertrude Ling on 25th December 1901 at St Mary's in Warwick. He was 23 and she was 20. According to the marriage register, Harry was living in Handsworth and Gertrude was living at The Butts in Warwick.
By 1911, Harry and Gertrude were living at 47 Victoria Street. They had had no children.
The following appeared in Warwick Advertiser on 5th February 1916:
Notice of Harry's death was given a week later:
Military Service
Rank & Number: Private, 58378
Regiment/Service: 142nd Field Ambulance, Royal Army Medical Corps
Brigade/Division:
Date of death: Wednesday, February 02, 1916
Cause of death/Battle: Died of wounds
Commemorated/Buried: Etaples Military Cemetery, Pas de Calais
Awards: 1914-15 Star, British War Medal, Victory Medal
Commemorated locally at:
This piece appeared in the Warwick Advertiser on 12th February 1916 and gives details of Harry's death: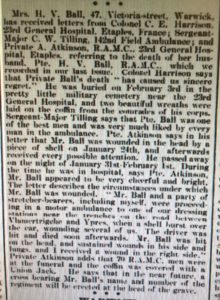 Contributors
Unlocking Warwick Research Group
Warwick Advertiser excerpts courtesy of Warwickshire County Record Office