Bartlett, Herbert George (Bert)
Age: 37
Date of birth: 1881 (Q3)
Parents: Richard H and Ellen Bartlett
Wife:
Address: 16 Victoria Street
Occupation: Butler

Bert was the oldest of 4 siblings born to Richard Hall and Ellen Bartlett (nee Powell), who married in Rownhams in 1877. Bert's father, Richard, a publican, was born in Stratford-upon-Avon in 1850.
Herbert George was christened at St Mary's Warwick on 16th October 1881.
In the 1891 census, Richard and Ellen were living at 16 Victoria Street with Bert aged 9 , his sister Maud Lily, 5 and brother Richard Walter, 3.  There was another sibling who died in infancy.
Richard Bartlett was the licensee of The Gold Cup Inn at 6 Castle Street in Warwick between 1881 and 1916.  The family lived in Warwick for many years but were also in Shirley and Salisbury both before and after their time in Warwick.
In this contemporary photograph, the inn sign for the Gold Cup can be seen just beyond the lamp post.

In 1911 Bert was living at Kilworth House in North Kilworth, Leicestershire where he was employed as a footman. He was one of 13 domestic servants in the house (there were a further 8 in the stables and grounds).
Following his death, Bert's parents received a letter from an officer, describing how Bert would have a cross marking his grave: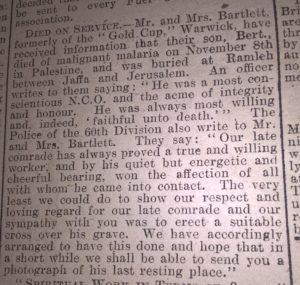 Military Service
Rank & Number: Lance Corporal, P/8425
Regiment/Service: Military Mounted Police
Brigade/Division:
Date of death: Wednesday, November 06, 1918
Cause of death/Battle: Died of malaria
Commemorated/Buried: Ramleh War Cemetery, Israel
Awards: We can find no record of Herbert's medal entitlement
Commemorated locally at: Southampton Cenotaph
Contributors
Unlocking Warwick Research Group
Warwick Advertiser excerpts courtesy of Warwickshire County Record Office