Age: 36
Date of birth: 15th October 1879
Parents: John Charles Casey and Alma Matilda Casey (nee Newton)
Wife: Louisa Alma Casey
Address: 526 - 4th Street, Brandon, Manitoba, Canada
Occupation: Steam fitter and had served 15 years in the Militia

Charles' father kept two pubs whilst living in Warwick – the Nelson and the Mermaid.
Charles was the eldest of nine children – he had 4 sisters (Mabel, Annette, Alma Margaret and Catherine) and 4 brothers (James, John, Hubert and Henry Newton).
The family emigrated and settled in Brandon, Manitoba, Canada.  Charles left a wife and three young children – Nora (b. 1905), James (b. 1907) and Charles (b.1911).  The following piece from the Warwick Advertiser describes Charles as a 'devoted Roman Catholic.'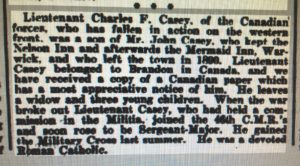 Military Service
Rank & Number: Lieutenant, 106128
Regiment/Service: 1st Brigade, 1st Canadian Mounted Rifles (Saskatchewan Regiment)
Brigade/Division:
Date of death: Friday, September 15, 1916
Cause of death/Battle: Killed in action - Regina Trench
Commemorated/Buried: Vimy Memorial, Pas de Calais
Awards: Military Cross (MC), 1914-15 Star, British War Medal, Victory Medal
Commemorated locally at:
Charles signed his Attestation papers on 1st December 1914.  He is described as 5′ 9″ tall with fair hair and complexion and brown eyes.  He weighed 180 lbs.
He landed in France on 22nd September 1915.  During the year before his death on 15th September 1916, he is shown to have had 3 short leaves of absence, where he returned to England.
Charles was awarded the Military Cross in August 1916, just a month before his death.  His widow, Louisa, received a war pension in November 1916.
Contributors
Unlocking Warwick Research Group
Details from military records courtesy of Paul Humphriss
Warwick Advertiser excerpt courtesy of Warwickshire Couny Record Office