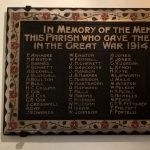 Age: c.35
Date of birth: 1881
Parents:
Wife: Emily Collins (nee Price)
Address: Small Heath, Birmingham
Occupation: Metal mixer at a brass foundry

Charles was born at some time during the second quarter of 1881, in Aston. As his age was given as 31 in the 1911 census, it is likely that he was born in early April.
Charles must have married Emily Price at some time after May 1906 (when she signed the register as witness of her brother Reuben's wedding), although no record has been found.
At the time of the 1911 census, Charles, aged 31, and Emily, aged 32, were living at 4 Holly Grove, Cooksey Road, Small Heath, Birmingham with their 3-year old son Frederick Ernest and their 9-month old daughter Ivy May and Emily's mother. Both Charles and Emily were working at the brass foundry where Emily was a brass burnisher.
Military Service
Rank & Number: Private, 8828
Regiment/Service: 1st Battalion, Royal Warwickshire Regiment
Brigade/Division: 10th Brigade, 4th Division
Date of death: Sunday, June 06, 1915
Cause of death/Battle: Died of wounds
Commemorated/Buried: Hazebrouck Communal Cemetery, Nord
Awards: 1914-15 Star, British War Medal, Victory Medal
Commemorated locally at: All Saints Church
Contributors
Unlocking Warwick Research Group