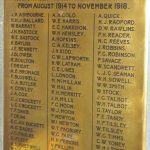 Age: 31
Date of birth: 1883
Parents: John and Jane Cowley
Wife: Annie Walton
Address: Quinton, Warwickshire
Occupation: Carpenter

Harry and his family were born and lived in Quinton, Gloucestershire.
His father, John, was an agricultural labourer and his mother a cook.  At the time of the 1901 census, they were living in a cottage in Quinton and the three children were at home – Mary (20), Harry (17) who was a carpenter and Emma (14) who is described as 'a candidate at Quinton CE School.
Harry married Annie Walton in Quinton, the Banns were read on 21st May 1908.  By 1911, they were living at Alveston in Stratford upon Avon and had a son, Philip John, who was one.
Harry's connection with Warwick is not known.  An application to appear on the Warwick War Memorial was completed but gives not details of who applied on Harry's behalf.  Harry's wife, Annie, died in Warwick in 1973 so it is probable that she lived in Warwick and made the application herself.  Any further information would be welcomed.
Military Service
Rank & Number: Private, 19841
Regiment/Service: 2nd Battalion, Duke of Edinburgh's (Wiltshire Regiment)
Brigade/Division: 21st Brigade, 7th Division
Date of death: Saturday, September 25, 1915
Cause of death/Battle: Killed in action - Battle of Loos
Commemorated/Buried: Loos Memorial, Pas de Calais
Awards: 1914-15 Star, British War Medal, Victory Medal
Commemorated locally at: St Pauls Church
Harry enlisted for "Short Service" in the military in 1903.  He describes himself as a carpenter on his Attestation papers.
Contributors
Unlocking Warwick Research Group
Warwick Shrine application courtesy of Warwickshire County Record Office