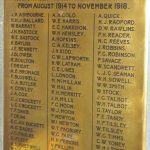 Age: c.25
Date of birth: 1889 (Q3)
Parents: Eliza Dean
Wife:
Address: 24 Parkes Street
Occupation: Labourer

Thomas Dean was born in Warwick in 1889
At the time of the 1891 census, Thomas's father was dead and his widowed mother was living at 9 Lammas Walk, Saltisford with six children, four of whom appear to be from an earlier marriage: William (16), Annie (14), Susannah (10) and Frederick (8) Turner, plus Stephen Dean (6) and Thomas Dean (2). Also in the household as a lodger was Ann Humpreys, also a widow. Neither of the widows were employed. William was working as a labourer.
By the 1901 census, Eliza was working as a washerwoman and living at 4 Union Buildings, Linen Street. Susan, Fred and Stephen Turner and Thomas were living with her and the older three were all working.
The 1911 Census shows Thomas, now aged 22, living at 24 Park Street with Eliza and Stephen. Stephen was working as a labourer at Nelson Dale. Thomas's occupation is described as Army Pension + labourer which suggests he was in the army at some point between 1901 and 1911.
Military Service
Rank & Number: Private, 7222
Regiment/Service: 1st Battalion, Coldstream Guards
Brigade/Division: 1st (Guards) Brigade, 1st Division
Date of death: Monday, September 14, 1914
Cause of death/Battle: Killed in Action - Battle of the Aisne
Commemorated/Buried: La Ferte-Souse-Joarre Memorial, Seine-et-Marne
Awards: 1914 Star and Clasp, British War Medal, Victory Medal
Commemorated locally at: St Pauls Church
Contributors
Unlocking Warwick Research Group
Warwick Advertiser excerpt and Shrine Application courtesy of Warwickshire County Record Office