Duckett, Edmund Charles Albert Victor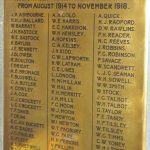 Age: 19
Date of birth:
Parents: Edmund and Mary Jane Duckett
Wife: Single
Address: 36 Friars Street
Occupation:

Edmund, Charles, Albert Victor Duckett was born at 32 Sheep Street, Stratford-upon-Avon but by the time he was baptised at St Paul's Church on 7th November 1987, the family had moved to Warwick.  His father, also, Edmund was a Stud Groom.  His mother was Mary Jane (nee Rose).
In 1901 and 1911, the family were living at 36 Friars Street, Warwick.  Edmund has two older sisters Eveline May and Beatrice May.  In 1911, five members of the Broughton family were sharing their accommodation.  They are described as Boarders.
Edmund was living in Canada but returned to fight in the war.
An "In Memoriam" notice placed in the Warwick Advertiser a year after his death mentions his sister, Eveline.
Military Service
Rank & Number: Private, 19076
Regiment/Service: 15th (Service) Battalion, Royal Warwickshire Regiment
Brigade/Division: 13th Brigade, 5th Division
Date of death: Tuesday, October 09, 1917
Cause of death/Battle: Died of wounds
Commemorated/Buried: Godewaersvelde British Cemetery, Nord
Awards: British War Medal, Victory Medal
Commemorated locally at: St Pauls Church
Contributors
Unlocking Warwick Research Group
Warwick Advertiser excerpt courtesy of Warwickshire County Record Office