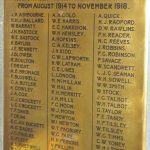 Age: 34
Date of birth: 30th October 1879
Parents: William and Lucy Fleet
Wife: Rose Edith Fleet (nee Rogers)
Address:
Occupation:

Charles was born in North Crawley, Newport Pagnell, Buckinghamshire. According to the census of 1891, his father was a widower and he had an elder sister Clara (16) and brother Federick (14)
According to the Naval Pension records, Charles and Rose had 3 sons: Douglas F, William C and Wilfred Gordon.
The youngest, Wilfred, was born in Warwick in October 1914.
According to the 1911 census, Charles and Rose Fleet were living at 11 Northampton Terrace in Newport Pagnell with their 4 month old son, Douglas. In this record, Charles was aged 30, which is inconsistent with the Royal Marine War Roll birth date of October 1879 He is recorded as working as a 'rubber down' at a motor works, so it would appear that he had left the army by this time and may have re-enlisted at the outbreak of war, as many ex-soldiers did.
According to the military record, his wife's address at the time of his death was 50 Horringer Road, Bury St Edmunds
Charles' brother, John Robert Fleet of the Buckinghamshire Yeomanry, was captured at Gallipolli and died whilst a prisoner of war
Military Service
Rank & Number: Corporal, RMR/B/1585
Regiment/Service: Chatham Battalion, Royal Marine Light Infantry
Brigade/Division:
Date of death: Friday, June 18, 1915
Cause of death/Battle: Died of wounds at Gallipoli
Commemorated/Buried: Skew Bridge Cemetery, Gallipoli, Turkey
Awards: Distinguised Service Medal (DSM), 1914 Star and Clasp, British War Medal, Victory Medal
Commemorated locally at: St Pauls Church
Charles enlisted in the Royal Marine Light Infantry on 29th November 1897 and returned to active service at the outbreak of war.
He received his DSM whilst serving as a private during operations outside Antwerp  in October 1914.  He must then have travelled to Gallipoli, where he died on 18th June 1915.
Contributors
Unlocking Warwick Research Group