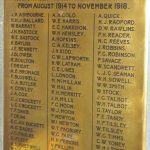 Age: 25
Date of birth: 1893
Parents: David Newton and Sarah Ann Fretwell
Wife: Kate Fretwell (nee Burnham)
Address: 22 Paradise Street
Occupation: Baker

Albert Edward Fretwell was born in 1893, the son of David Newton and Sarah Ann Fretwell.  The Fretwell family was a large one, Albert had eleven brothers and sisters.
In 1911 the family were living at 24 Friars Street in Warwick. Albert's father had been a House Painter for many years and in 1911 Albert was working as a Baker.
In the summer of 1916 Albert married Kate Burnham and they lived with her widowed mother at 22 Paradise Street.
Military Service
Rank & Number: Corporal, 74044
Regiment/Service: 11th (Service) Battalion, Cheshire Regiment
Brigade/Division: 75th Brigade, 25th Division
Date of death: Saturday, June 01, 1918
Cause of death/Battle: Killed in Action - Battle of the Aisne
Commemorated/Buried: Jonchery-sur-Vesle British Cemetery, France
Awards: 1914-15 Star, British War Medal, Victory Medal
Commemorated locally at: St Pauls Church, Westgate School
Albert was only reported missing at the beginning of July 1918, a month after he died.
Warwick Advertiser 6th July 1918
Contributors
Warwick Advertiser excerpt courtesy of Warwickshire County Record Office
Unlocking Warwick Research Group