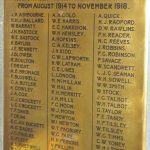 Age: 34
Date of birth: 1885
Parents: William and Lucy Garrett
Wife: Mary Jane Garrett (nee Kennett)
Address: 59 Linen Street
Occupation: Bricklayer

Harry Samuel Garrett was born in Warwick in 1885. In the 1891 census he was one of the seven children of William and Lucy Garrett, living at 19 Commercial Buildings in Saltisford. His father William was a Bricklayer.
By 1901, with the family still living at the same address, Harry is now an errand boy. He married Mary Jane Kennett in 1910 and their daughter Marjorie was born later that year.
In 1911 Harry and his wife and daughter are listed as living at 2, Pedmore Terrace, Linen Street, Warwick and he is a Bricklayer. His parents and his two youngest sisters were still living at Commercial Buildings. In the autumn of 1914 Harry and Jane had a second daughter, Winifred.
Harry's parents commemorated his death on their grave in the Warwick Cemetery where the inscription reads:
Mother
Sacred To Her Memory
LUCY the beloved wife of WILLIAM GARRETT died June 18 1936 aged 77 years.
Also of HARRY son of the above killed in action March 1918.
In Loving Memory of WILLIAM GARRETT died October 21st 1931 aged 75
Military Service
Rank & Number: Private, 48073
Regiment/Service: 22nd (Service) Battalion, Northumberland Fusiliers
Brigade/Division: 102nd Brigade, 34th Division
Date of death: Thursday, March 21, 1918
Cause of death/Battle: Killed in Action - Battle of St Quentin
Commemorated/Buried: Arras Memorial, Pas de Calais
Awards: British War Medal, Victory Medal
Commemorated locally at: St Pauls Church
Contributors
Unlocking Warwick Research Group