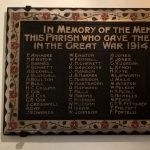 Age: 26
Date of birth: c1890
Parents: Amos and Rebecca Hanson
Wife:
Address: 6 Humphris Street
Occupation: Career in the Royal Navy

In 1901 Joseph's family were living at 6 Humphris Street.  He was the second eldest of six brothers – ?, Joseph, Harry, Albert, Arthur and Bertie and had one sister, Mary.  Joseph's father, Amos, was a canal boatman.
By 1911 only Harry, Arthur, Bertie and a younger sister, Violet, were living at 6 Humphris Street.  Amos and Harry were general labourers whilst Arthur and Bertie are Factory Hands at the Gelatine Works (probably Nelson Dale and Co)
*****
These clips both appeared in the Warwick Advertiser on 17th June 1916:
Military Service
Rank & Number: Stoker 1st Class, SS/110329
Regiment/Service: HMS Queen Mary Regiment
Brigade/Division:
Date of death: Wednesday, May 31, 1916
Cause of death/Battle: Lost at sea - Battle of Jutland
Commemorated/Buried: Portsmouth Naval War Memorial
Awards: 1914-15 Star, British War Medal, Victory Medal
Commemorated locally at: All Saints Church, All Saints School
Joseph was lost on the same day as Algernon Percy – in the Battle of Jutland. See our entry for Algernon Percy in our 'Not Forgotten' section.
HMS Queen Mary participated in the Battle of Jutland in mid-1916. She was hit twice by the German battlecruiser,  Derflinger during the early part of the battle and her magazines exploded shortly afterwards sinking the ship. The ship went down with 1266 officers and men being lost, there were only 20 survivors. The wreck was discovered in 1991 and rests in pieces some of which are upside down on the floor of the North Sea.
(Wikipedia – courtesy of David Oliver)
Joseph has served in the Royal Navy for 6 years
Contributors
Unlocking Warwick Research Group
Warwick Advertiser Excerpts courtesy of Warwickshire County Records Office