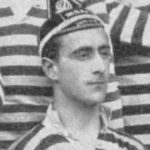 Age: 23
Date of birth: 29/12/1892
Parents: Frank Eden and Amy Hart
Wife:
Address: 130 Sherbourne Road, Balsall Heath, Birmingham
Occupation: Corporal with the Royal Fusiliers

The 1901 census shows that Richard was the middle sibling of three. He had an older sister, Dorothy and a younger brother Harry.  His mother Amy is described as 'wife' but Richard's father is not listed.  The family were living at 120 Sherbourne Road and had three boarders Mary Warner (a widow) and her two sons, Rudolph and Horace.
At the time of the 1911 Census we have been unable to trace the rest of the family but Richard is listed as a Boarder at Warwick School.  This shows him as a member of the tragic First XV Rugby Team of 1912-13 , who lost 9 of their members, six of whom are commemorated on Warwick War Memorial
Richard later went on to study at Merton College, Oxford on a Rhodes Scholarship.    Although the family were not local to Warwick, Mr M Clark of Warwick School applied for Richard to be included on Warwick War Memorial
Military Service
Rank & Number: Second Lieutenant, 119097
Regiment/Service: 10th (Service) Battalion, Royal Warwickshire Regiment
Brigade/Division: 57th Brigade, 19th Division
Date of death: Sunday, July 30, 1916
Cause of death/Battle: Killed in action
Commemorated/Buried: London Cemetery, Somme
Awards: British War Medal, Victory Medal
Commemorated locally at: Warwick School
Richard was initially reported as wounded, then wounded and missing, after he had died.
Warwick Advertiser
Contributors
Gervald Frykman – Warwick School Archivist
Unlocking Warwick Research Group
Warwick Advertiser excerpts courtesy of Warwickshire County Record Office