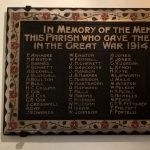 Age: 28
Date of birth: 1889
Parents: Herbert and Susanna Jane Johnson
Wife: Florence Johnson (nee Woodfield)
Address: 7 Charles Street
Occupation: Invoice clerk

At the time of the 1911 census, Walter, aged 21, was living with his parents and 3 siblings at 47 Ash Road, Saltley, Birmingham. Jane (37) was a printer's bookkeeper, Florence (28) a housekeeper, Leonard (23) a stores clerk for a rubber company. Walter was working as an invoice clerk for a motor manufacturer. His father had his own business as a press tool maker.
Walter married Florence on 10th April 1916 at All Saints Church, Emscote, Warwick and the address  given was that of Florence's parents (7 Charles Street). In 1911, Florence and her father were both working at the Nelson, Dale & Co. gelatine works
Warwick Advertiser 8th June 1918
Walter's service record includes Florence's signed receipts for his British War Medal, dated 13th November 1920 and his Victory Medal, dated 4th February 1921
Military Service
Rank & Number: Private, F/3027
Regiment/Service: 23rd (Service) Battalion, The Duke of Cambridge's Own (Middlesex Regiment)
Brigade/Division: 123rd Brigade, 41st Division
Date of death: Thursday, June 07, 1917
Cause of death/Battle: Killed in Action - Battle of Messines
Commemorated/Buried: Voormeseele Enclosure No 3, Ypres
Awards: British War Medal, Victory Medal
Commemorated locally at: All Saints Church
Walter enlisted on 21st November 1915 to the 127th Middlesex Regiment. His attestation records that he was living at 49 Nansen Street, Birmingham, that he was 26 years old, single, 5′ 5″ and worked as a clerk. His next of kin was originally his father, Herbert, of 67 Bloomsbury Street, Vauxhall, Birmingham (changed when he married).
Contributors
Unlocking Warwick Research Group
Warwick Advertiser excerpts courtesy of Warwickshire County Record Office