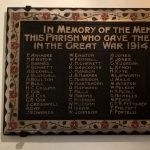 Age: 18
Date of birth: c1899
Parents: Robert C and Henrietta Jones
Wife:
Address: 123 Emscote Road
Occupation:

At the time of the 1901 census, Frank, aged 2, was living at 26 Burrowes Street in Walsall, with his parents and 4 siblings, Frederick (9), Mary A (11), William (7), Albert E (3). All the children had been born in different places: Frederick in Shepherds Bush, London, Mary in Teddington, Middlesex, William in Notting Hill, London, Albert Edward in Shrewsbury and Frank in Kidderminster. Their father was a Journeyman tailor.
At the time of the 1911 census, Frank was living at 23 North Rock, Saltisford, Warwick, with his mother Henrietta and brothers Frederick (19) and Edward (13). Frederick was a trainee teacher, working for the council. Henrietta is recorded as married, rather than widowed so it is likely that her husband was away on census day.
According to the Spennell's Trade Directory of 1914, the family were not then living at 23 North Rock. Frank's brother, Frederick, is listed as a teacher living at 123 Emscote Road.
Military Service
Rank & Number: Gunner, 614473
Regiment/Service: 1st/1st (Warwick) Battery, Royal Horse Artillery
Brigade/Division: 1st Warwick Battery, 15th Division
Date of death: Friday, April 27, 1917
Cause of death/Battle: Died of wounds
Commemorated/Buried: Duisans British Cemetery, Pas de Calais
Awards: British War Medal, Victory Medal
Commemorated locally at: All Saints Church
This Roll of Honour appeared in the Warwick Advertiser on 12th May 1917.  Frank is also commemorated along with his colleagues in St Mary's Church, Warwick.
Contributors
Unlocking Warwick Research Group
Warwick Advertiser excerpt courtesy of Warwickshire County Record Office