Kyte, William Henry Hayes (Harry)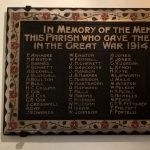 Age: 27
Date of birth: 1889
Parents: William Benjamin and Sabina Elizabeth Kyte
Wife: Jessie Kyte
Address: 2 Bridge Street
Occupation: Basket Maker

Harry as William Henry Hayes was known was born in April 1889 in Warwick. He was baptised at All Saints Church on 2nd May 1889. He was the only child of William Benjamin and Sabina Elizabeth Kyte nee Maycock. His father who was a coachman died in 1892 aged 31 when Harry was just three years old. His mother remained a widow.
In 1911 she and Harry were living at 13, Hill Street, Emscote. She was working as a laundress and Harry aged 22 was a basket maker.
"In Memoriam" notices placed in the Warwick Advertiser a year after his death show that his family knew him as Harry
Warwick Advertiser 9th November 1918
We think that Jessie may have been his sweetheart or fiance.
Sabina died in 1951 in Alcester aged 86.
Military Service
Rank & Number: Corporal, 310199
Regiment/Service: 5th Mounted Brigade, 1st/1st Warwickshire Yeomanry
Brigade/Division: 5th Mounted Brigade, Australian Mounted Division
Date of death: Thursday, November 08, 1917
Cause of death/Battle: Killed in action - cavalry charge at Huj
Commemorated/Buried: Gaza War Cemetery
Awards: British War Medal, Victory Medal
Commemorated locally at: All Saints Church, Yeomanry Memorial St Mary's Church, Avenue of Trees in St Nicholas Park
Contributors
Unlocking Warwick Research Group
Warwick Advertiser excerpts courtesy of Warwickshire County Record Office