Age: 45
Date of birth: 28th August 1870
Parents: George Henry and Helen Augusta Nelson
Wife:
Address: 38 High Street
Occupation: Former Managing Director of Nelson Dale and Company

From 'Warwick in the Great War' by Graham Sutherland (by kind permission of the author)
'The Nelsons were a prominent family in Warwick. Walter's uncle was Sir Edward Montague Nelson KCMG, the successful owner of the George Nelson Dale gelatine factory at Emscote Mills in Wharf Street. It had been a family firm since 1837 with the invention of a high quality gelatine that could be used for a range of products including sweets, jellies, cooking and photographic film. Sir Edward had been appointed mayor although he was not a member of the Warwick Borough Council.
Born in 1870, Walter was the tenth child of Sir Edward's brother, George Henry, a director of the company and Helen Augusta Nelson. The family had lived in what is now known as Pageant House at 2 Jury Street before selling it to Warwick Borough Council after the 1906 pageant.  After studying at Cambridge, Walter joined the company in 1901.'
Walter was a pupil at Warwick School before attending Cambridge
From Kenneth Fowler's South Warwickshire Roll of Honour:
Whilst working in Warwick Walter was a member of Warwick Town Council, Chairman of the Warwick Chamber of Trade and a Freemason (Shakespeare Lodge).
Warwick Advertiser October 23rd 1915 p8 Killed in Action: "Nelson – killed in action in France on 13th October, 2nd Lieutenant Walter Nelson, 6th South Staffordshire Regiment, son of the late George Henry Nelson of Warwick, aged 45"
Walter is commemorated on the family grave in Warwick Cemetery:
Military Service
Rank & Number: Second Lieutenant, not given
Regiment/Service: B Company, 1st/6th Battalion, South Staffordshire Regiment
Brigade/Division: 137th Brigade, 46th Division
Date of death: Wednesday, October 13, 1915
Cause of death/Battle: Killed in action - Hohenzollern Redoubt
Commemorated/Buried: Loos Memorial, Pas de Calais
Awards: 1914-15 Star, British War Medal, Victory Medal
Commemorated locally at: All Saints Church, Warwick School
From 'Warwick in the Great War' by Graham Sutherland (by kind permission of the author)
'According to local historian Anthony James Leahy, 'Second Lieutenant Walter Nelson served with "B" Company of the 1/6th South Staffords. He was a native of Warwick but was living and working in Paris when war broke out. He joined the French Foreign Legion and served with them for several months before transferring to the British Army. He joined the 1/6th South Staffords in August 1915, while the battalion was serving in the Hill 60 sector. In 1915, Walter Nelson was killed while trying to cut gaps through the barbed wire to allow his platoon to move forward. He was 45 years old'.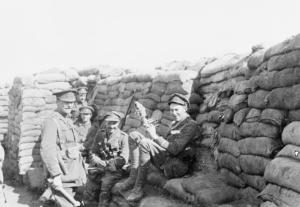 Below and photograph right, kindly supplied by the Archivist of Warwick School:
Officers of "B" Company of the 1/6th Battalion, South Staffordshire Regiment in No.38 Trench at Hill 60, three miles south-east of Ypres during March 1915. (L to R): Lieutenant Walter Nelson, Major E Lewis, Lieutenant G Howard Smith. Image courtesy of the Department of Photographs at the Imperial War Museum, image reference Q60504.
Warwick Advertiser 11th November 1916 p16 – Local War Items: Alderman Mann's second son [Ernest William Mann], who is on the Somme, writes:- "I was talking to an A.S.C. man the other day. named Buchanan, who fought alongside Walter Nelson in the Foreign Legion, and he said what an excellent fellow he was – always ready to do anything that was required of him, in the most unselfish manner. He had a very high opinion of him."
Contributors
Unlocking Warwick Research Group
Graham Sutherland
Anthony James Leahy
Gerard Frykman – Archivist Warwick School