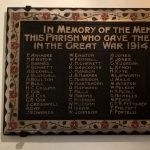 Age: 24
Date of birth: 1893
Parents: Mrs J Wright
Wife:
Address: 22 Broad Street
Occupation:

Despite several searches, we have been unable to find details of Harold's life.  We know he had a brother – Herbert G Nicoll – who lived at 12, Francis Road, Cotteridge, Birmingham.
We also know that his mother was a Mrs J Wright of Broad Street, Warwick as she sent in the Shrine Application on Harold's behalf. Any further details would be most welcome.
Military Service
Rank & Number: Lance Corporal, 220531
Regiment/Service: 5th (Service) Battalion, Princess Charlotte of Wales (Royal Berkshire Regiment)
Brigade/Division: 36th Brigade, 12th Division
Date of death: Tuesday, October 15, 1918
Cause of death/Battle: Killed in action at Artois
Commemorated/Buried: Orchard Dump Cemetery, Pas de Calais
Awards: British War Medal, Victory Medal
Commemorated locally at: All Saints Church
Harold was in the Oxfordshire and Light Infantry Regiment, number 32708, before joining the Royal Berkshire Regiment. He was wounded on the 23rd November 1917 and was entitled to wear a 'Wound Stripe'.
Contributors
Unlocking Warwick Research Group
Shrine Application courtesy of Warwickshire County Record Office