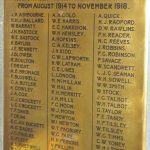 Age: 19
Date of birth: 1899 (Q2)
Parents: Daniel and Maria Rawlins
Wife: Single
Address: 2 Monks Way
Occupation: Bricklayer

Daniel was born in 1899, but was baptised 13th March 1901 at St. Paul's Church, Warwick, alongside his brother Henry. His parents were Daniel Hunter and Maria (nee Taylor) who had married on 1st August 1898.
In 1901 Daniel, Maria and their two sons were living at 57, Woodhouse Street, Warwick. Daniel Snr. was working as a bricklayer.
By the 1911 census the family had fallen upon hard times because the father was a patient in Abbotsfield, High Street, Kenilworth. Daniel aged 11, his brothers John (9) and Frederick (4) and his sister Margaret (6) were inmates at the Warwick Union Workhouse. It's not clear where their mother was, nor their brother Henry nor sister Gladys (b. 1909). In March 1912 another child, Kathleen was born.
Daniel Hunter senior died in the infirmary on 14th May 1914 aged 38. His address on the death certificate is given as 16 Lammas Cottages, Linen Street.
In 1919 Maria, Daniel's mother, married William Berry. She died in 1954, in Leicester, aged 79. Most of Daniel's siblings lived to a good age: John died in 1977, Margaret in 1994, Frederick in 1997, Kathleen in 2004 and Gladys in 2005.
Military Service
Rank & Number: Private, 45134
Regiment/Service: 8th Battalion, Princess Charlotte of Wales (Royal Berkshire Regiment)
Brigade/Division: 53rd Brigade, 18th Division
Date of death: Tuesday, May 14, 1918
Cause of death/Battle: Died of wounds
Commemorated/Buried: Pernois British Cemetery, Somme
Awards: British War Medal, Victory Medal
Commemorated locally at: St Pauls Church
According to the military records, Daniel first served in the Royal Warwickshire Regiment (regimental no. 331435) before joining the Berkshire Regiment.
Warwick Advertiser 25th May 1918
Contributors
Unlocking Warwick Research Group
Warwick Advertiser excerpt courtesy of Warwickshire County Record Office