Robinson, Frederick George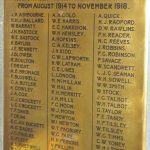 Age: 19
Date of birth: 1899
Parents: Joseph and Henrietta Robinson
Wife:
Address: 68 Saltisford
Occupation:

Frederick was born in 1899 in Slough, Buckinghamshire. His father was Joseph and his mother Henrietta and they were married in 1898. Frederick was the oldest of 3 out of 6 surviving children. His brother was Walter Sydney born in 1903 and his sister Gladys Victoria born in 1907.
In the 1911 census the family were living in Codsall, near Wolverhampton in Staffordshire. Frederick's father was working as a Nurseryman Gardener.
The Shrine Application form was sent in by Frederick's brother, Walter, who was living at 68 Saltisford at the time.  By 1939, Walter was living at 32 Cherry Street, Warwick with his wife Violet. His occupation, like his father, was as a Nursery hand. Walter died in Warwick in 1971 aged 68.
Military Service
Rank & Number: Private, 45691
Regiment/Service: 15th (Hampshire Yeomanry), Hampshire Regiment (2nd Portsmouth)
Brigade/Division: 122nd Brigade, 41st Division
Date of death: Sunday, August 11, 1918
Cause of death/Battle: Died of wounds
Commemorated/Buried: Esquelbecq Military Cemetery, Nord
Awards: British War Medal, Victory Medal
Commemorated locally at: St Pauls Church
Contributors
Unlocking Warwick Research Group
Shrine Application with kind permission of Warwickshire County Records Office