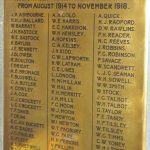 Age: 31
Date of birth: 1888 (Q1)
Parents: William and Eliza Savage
Wife: Eva Sarah Paget Savage
Address: 5 Saint Pauls Terrace, Linen Street
Occupation: Bricklayer

At the time of the 1891 census Percy, aged 3, was living with his parents and five older siblings at 3 Market Street, Warwick. The eldest, Amy (14) was working as a general servant. Lizzie (12), William (9), Frances (7) and Mary (5) were at school. Their father was a bricklayer's labourer.
By 1901 there were another three children: Leonard, Hilda and Arthur and the two eldest girls had left home. Both William Snr and William Jnr were working as bricklayer's labourers and Frances was working as a cigar maker.
Percy appears in the 1911 census in the return for the Alverstoke barracks, Gosport, Hampshire. He is recorded as single, a Sapper in the 42nd Company of the Royal Engineers and a former bricklayer.
No record of his marriage to Eva Paget has been found.
Warwick Advertiser 1919:
'Corporal PERCY SAVAGE,  (Royal Enginners) died on the 26th of February 1919, aged 31 years of bronchial pneumonia at the 8th Canadian Hospital, Dunkirk, France.  Deeply mourned by  Mother, Brothers and Sisters.'
'SAVAGE – On February 26th of bronchial pneumonia, at the 8th Canadian Hospital, Dunkirk, France.  Cpl P Savage, Royal Engineers dearly beloved husband of Eva Savage, 5 St Pauls Terrace, aged 31 years.  "Rest in Peace"'
Military Service
Rank & Number: Corporal, 19496
Regiment/Service: 431st Field Company, Royal Engineers
Brigade/Division:
Date of death: Wednesday, February 26, 1919
Cause of death/Battle: Died of pneumonia at hospital in Dunkirk
Commemorated/Buried: Dunkirk Town Cemetery, Nord
Awards: British War Medal, Victory Medal
Commemorated locally at: St Pauls Church, Westgate School
Contributors
Unlocking Warwick Research Group
Warwick Advertiser excerpts courtesy of Warwickshire County Record Office