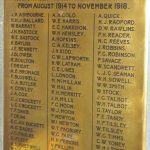 Age: 33
Date of birth: 1884
Parents: Henry and Harriet Scandrett
Wife: Annie Scandrett
Address: 1 Queens Square
Occupation: Painter at Hatton Asylum

William was born in Warwick to parents Henry (Harry) and Harriet in 1884.  He was one of five brothers – the others were  Arthur, Harry, Herbert and George.  He also had a sister – Violet Louisa.
In 1911, his parents were living at 22 Queens Square and all of the children had left home.  Harry Senior is described as a house painter – an occupation that was shared by most of his sons.
William and Annie were living alone at 1 Queens Square.  They had a daughter, Gwendoline Harriet, who was baptised at St Paul's Church on 28th September 1910 but she was not listed.  Records show that she died and was buried on 11th April 1913.
William's brother, George, also died. Their three other brothers fought and survived.
An item about Arthur Scandrett in the Local War Items section of the Warwick Advertiser on 26th June 1915 noted that the father, Harry, lived on Stand Street.
Warwick Advertiser 2nd September 1916
Military Service
Rank & Number: Private, 2280
Regiment/Service: 11th (Service) Battalion, Royal Warwickshire Regiment
Brigade/Division: 112th Brigade, 37th Division
Date of death: Saturday, July 15, 1916
Cause of death/Battle: Killed in Action - Battle of Pozieres
Commemorated/Buried: Thiepval Memorial, Somme
Awards: 1914-15 Star, British War Medal, Victory Medal
Commemorated locally at: St Pauls Church
Contributors
Unlocking Warwick Research Group
Warwick Advertiser excerpt courtesy of Warwickshire County Record Office