Age: 33
Date of birth: 1885 (Q1)
Parents: George and Lucy Smith
Wife: Winifred Caroline Smith
Address: Castle Arms Public House, 2 Smith Street, Warwick
Occupation: Publican

John was the only child of George and Lucy Smith. He was born in Birmingham in 1885. In the 1891 census the family was living on the premises of their pub, The Railway Inn, 148 Great Frances Street, Aston, Birmingham.
By the 1901 census George and Lucy had moved to Warwick and were living on the premises of their pub, The Castle Arms, with a domestic servant, Emma Tredwell.   John was living with his cousin Thomas A. Jones and his family at 226 St Andrews Road, Aston. John was working as a clerk at a coal merchants.
In the 1911 census John is living at the pub with his parents, now in their 60s, and both George and John are recorded as licensed victuallers. John's mother died in 1913 and his father in 1915. They are buried together in Warwick Cemetery and John is commemorated on their grave: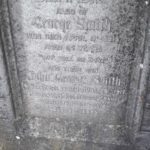 The inscription reads:
In Loving memory of LUCY the beloved wife of GEORGE SMITH who died Feb 24th 1913 aged 71 years.
Also of GEORGE SMITH who died April 8th 1915 aged 65 years.
And their son JOHN GEORGE SMITH (W.Yorks Regt.) died June 26th 1917 at Orange near Marseille France while serving his country aged 32 years
On 3rd January 1916 there was a tram accident which demolished part of the front of the pub. The full story and pictures can be found on the 'Our Warwickshire' website by clicking here
John was single at the time of the 1911 census although he had married by the time of his death in 1917, to Winifred Caroline but the date of their marriage is not known.
Military Service
Rank & Number: Private, 51172
Regiment/Service: 1st Garrison Battalion, West Yorkshire Regiment (Prince of Wales Own)
Brigade/Division:
Date of death: Tuesday, June 26, 1917
Cause of death/Battle: Died of a cerebral haemmorrhage aboard a ship enroute to Marseilles
Commemorated/Buried: Mazargues War Cemetery, Marseilles
Awards: British War Medal, Victory Medal
Commemorated locally at: St Nicholas Church
The second excerpt says that John served with the Warwickshire Yeomanry at some point
Contributors
Unlocking Warwick Research Group
Warwick Advertiser excerpts and Castle Arms story courtesy of Warwickshire County Record Office