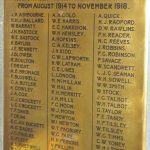 Age: 19
Date of birth: 20th February 1899
Parents: Walter William and Annie Maria Smith
Wife:
Address: 52 Woodhouse Street
Occupation: Plaster Factory Hand

Walter was baptised on 2nd April 1899 at St Mary's Leamington Priors. His parents were living nearby at 1 Chesham Street and his father was a labourer.
By the 1901 census, the couple's second child, Annie Maria had been born and the family of four were living at 89 West Street, Warwick. Walter Snr was now working as a mixer at a medical plaster works (surgical instruments).
By the 1911 census the couple had six children: Walter (12), Annie (10), Alice May (9) Kate Florence (6), Frank Henry (4) and Charles George ((1year 10 months). They were living at 52 Woodhouse Street, Warwick. On census night Walter Snr was not present.
Military Service
Rank & Number: Private, G/23651
Regiment/Service: 7th (Service) Battalion, Royal Sussex Regiment
Brigade/Division: 36th Brigade, 12th Division
Date of death: Saturday, August 24, 1918
Cause of death/Battle: Died of wounds
Commemorated/Buried: Daours Communal Cemetery Extension, Somme
Awards: British War Medal, Victory Medal
Commemorated locally at: St Pauls Church
Walter enlisted on 14th February 1917, at which time he was working as a Plaster Factory Hand.
He joined his batallion in France in April 1918
Warwick Advertiser 28th September 1918
Contributors
Unlocking Warwick Research Group
Warwick Advertiser excerpt courtesy of Warwickshire County Record Office