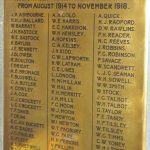 Age: 28
Date of birth: 1890 (Q1)
Parents: Charles and Jane Talbot
Wife:
Address: 32/34 West Street
Occupation: Market gardener

James was baptised at St Pauls Church on 6th April 1890. His father Charles was recorded as a greengrocer.
The family ran a green grocery business at 24 West Street:
At the time of the 1901 census, the family were living at 32/34 West Street and consisted of Charles and Jane, their sons Harry, aged 19 and a gardener and George J. (sic), aged 11 and daughters Mary (17) and Minnie (8). Charles is recorded as a Market Gardener on his own account.
In the 1911 census Charles is recorded as a fruiterer and market gardener, with Jane assisting in the business and only James and Minnie living with them. James was working as a market gardener and Minnie did the housework. The census records that Jane had borne 9 children of whom only 6 survived.
Warwick Advertiser 20th April 1918:
Military Service
Rank & Number: Private, 29920
Regiment/Service: 6th Cavalry Brigade, 10th (Prince of Wale's Own Royal) Hussars
Brigade/Division:
Date of death: Thursday, April 04, 1918
Cause of death/Battle: Killed in Action - Battle of the Avre
Commemorated/Buried: Pozieres Memorial, Somme
Awards: British War Medal, Victory Medal
Commemorated locally at: St Pauls Church
Contributors
Unlocking Warwick Research Group
Photo and excerpt from Warwick Advertiser courtesy of Warwickshire County Record Office