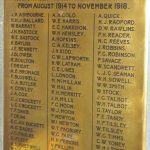 Age: 22
Date of birth: 1893 (Q1)
Parents: Eliza Winbush (formerly Tandy)
Wife:
Address: 4 Chapel Court, Friars Street
Occupation: Jobbing porter

Frank was baptised at All Saints, Emscote, Warwick on 2nd March 1893. Only his mother's name is recorded and the address is given as Wharf Street. At the time of the 1891 census, Eliza Tandy, single and a domestic servant had been living in Leamington in the house of William Southam and his wife. William is recorded as a "coal merchant and teacher of mathematics, shorthand etc privately and in schools".
Eliza married William H Winbush in Q3 of 1893.
In the 1901 census, Frank was living with his mother and William Winbush at 4 Chapel Court, Friars Street. Frank is recorded as Frank Winbush, son. William was working as a gardener (non-domestic).
At the time of the 1911 census, Frank Tandy (sic) was living as a lodger with his mother and William Winbush at 4 Chapel Court. Eliza and William had had 7 children together of whom 6 had survived and 5 were living with them at that time. William was a general labourer, Frank was a jobbing porter at a furniture dealers.
This newspaper item from 1916 shows that 9 months after he had been reported missing his mother was still hoping to hear that he was alive.
Military Service
Rank & Number: Private, 18601
Regiment/Service: 1st Battalion, Royal Welsh Fusiliers
Brigade/Division: 22nd Brigade, 7th Division
Date of death: Saturday, September 25, 1915
Cause of death/Battle: Killed in Action - Battle of Loos
Commemorated/Buried: Loos Memorial, Pas de Calais
Awards: 1914-15 Star, British War Medal, Victory Medal
Commemorated locally at: St Pauls Church
Contributors
Unlocking Warwick Research Group
Warwick Advertiser excerpt courtesy of Warwickshire County Record Office