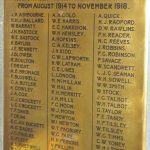 Age: 19
Date of birth: 1899 (Q1)
Parents: George and Jane Susanna Tilsley
Wife:
Address: 4 Woodwards Court, West Rock Saltisford
Occupation:

Harry was baptised on 19th March 1899 at St Mary's Warwick. His parents were living on Market Street and his father's trade was recorded as Hawker.
At the time of the 1901 census, the family were living at 4 Edwards Court, Market Street, Warwick. George was a licensed hardware hawker on his own account and there were 4 children: William (8), Mary (6), Joseph (4) and Harold (2)
By the 1911 census, the family was living at 4 Woodwards Court, West Rock, Saltisford and there had been another child, Elsie May (7). They also had a boarder living in the house. George was a "general dealer"
Jane Susannah lived until July 1947 and is buried in Warwick's Birmingham Road cemetery.
Harry's older brother, William, was killed in action in 1915. Their brother Joseph went on to marry and live with his family in Warwick and he, his wife and two daughters are buried near their mother.
Military Service
Rank & Number: Private, 55741
Regiment/Service: 1st/5th (City of Glasgow) Battalion, Highland Light Infantry
Brigade/Division: 157th Brigade, 52nd Division
Date of death: Wednesday, August 28, 1918
Cause of death/Battle: Killed in Action - Second Battle of the Somme
Commemorated/Buried: Wancourt British Cemetery, Pas de Calais
Awards: British War Medal, Victory Medal
Commemorated locally at: St Pauls Church
Contributors
Unlocking Warwick Research Group