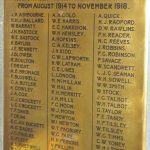 Age: 30
Date of birth: 1886 (Q3)
Parents: James and Ellen Timms
Wife: Florence Edith Timms (nee Davis)
Address: 1 Factory Yard
Occupation: Labourer

William was born in 1886 but baptised on 25th May 1887. At the time his parents were living at 5 Friars Court and his father was working as a labourer.
At the time of the 1901 census, James and Ellen were living at 25 Friars Street with their two sons William (14) and Herbert (6) and their married daughter Phoebe (Cartwright) with her baby son Harry. James was recorded as a farm labourer and William as a general labourer.
William married Florence Edith Davis on 14th July 1906 at St Paul's, Warwick. By the 1911 census they were living at 3 Carnall's Court, Brook Street, Warwick with a daughter Florence Violet (4) and a son William Edward (2). William was working as a butcher's assistant although it appears that this job did not last as the 1914 Spennell's Trade Directory lists William Timms as a labourer living at 1 Factory Yard.
Pte Timms was originally reported missing and it was only 8 months later that his death was confirmed:
Warwick Advertiser 12th January 1918

Warwick Advertiser 4th May 1918 In Memoriam
Military Service
Rank & Number: Private, 21405
Regiment/Service: 1st Battalion, Royal Warwickshire Regiment
Brigade/Division: 10th Brigade, 4th Division
Date of death: Thursday, May 03, 1917
Cause of death/Battle: Killed in Action - Third Battle of the Scarpe
Commemorated/Buried: Arras Memorial, Pas de Calais
Awards: British War Medal, Victory Medal
Commemorated locally at: St Pauls Church
Contributors
Unlocking Warwick Research Group
Warwick Advertiser excerpts courtesy of Warwickshire County Record Office