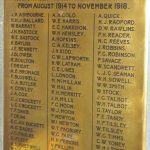 Age: 21
Date of birth: 1893
Parents: Charles and Harriet Annie Unitt
Wife:
Address: 33 Parkes Street
Occupation: Boots at a local hotel

Harry was christened at All Saints Church in Warwick on 20th July 1893 when his parents, Charles and Annie were living at Chapman Street.
By 1901, Charles and Annie had 6 children living at home: Nellie (9), Harry (7), Minnie (5), Charlie (4), Peter (1) and Annie (3 months). They were living at 12 Mill Street and Charles was working as a hall porter.
At the time of the 1911 census, the family was living at 33 Parkes Street, Saltisford.  Annie had had 10 children by this time, all of whom had survived, although only the younger 8 (4 boys and 4 girls) were living at home.  Harry was the eldest son in the household and worked as a "boots" at a local hotel. His father was a farm labourer.
This paragraph appeared in the Local War Items just after Harry's death. It is to be hoped that this was not how his family got the news, but the death notice did not appear in the paper until 2 weeks later.
Military Service
Rank & Number: Rifleman, 4504
Regiment/Service: 3rd Battalion, Rifle Brigade
Brigade/Division: 17th Brigade, 6th Division
Date of death: Monday, October 19, 1914
Cause of death/Battle: Killed in Action - Battle of Armentieres
Commemorated/Buried: Ploegsteert Memorial, Belgium
Awards: 1914 Star and Clasp, British War Medal, Victory Medal
Commemorated locally at: St Pauls Church
Contributors
Unlocking Warwick Research Group
Warwick Advertiser Excerpts and Shrine Application courtesy of Warwickshire County Record Office