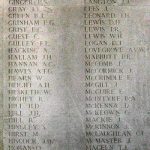 Age: 36
Date of birth: c1903
Parents: Frederick and Lily Height
Wife: Lily Proctor
Address: 29 Lyttleton Road, Warwick
Occupation: Worked at Lockheed Brake Company in Leamington

Arthur was born in Leamington Spa in 1903. According to the 1911 census the family were living at 3 Chesham Terrace, Leamington Spa. Arthur's father Frederick was a labourer at a brewery. His mother Lily was a laundress. Arthur was the second child of a very large family of 15 children, two of his younger brothers died as infants.
Arthur married Lily Proctor in Warwick in 1927. They had three children – Kathleen born in 1927, Ronald born in 1930 and Gerald born in 1932 who died as an infant.
Lily died in 1980 aged 85.
Military Service
Rank & Number: Gunner, 5098280
Regiment/Service: Royal Artillery
Brigade/Division: HQ 48th Division
Date of death: 27th May 1940
Cause of death/Battle: Killed in action at Dunkirk
Commemorated/Buried: Commemorated on Dunkirk Memorial, Nord, France. Column 12
Awards:
Commemorated locally at:
Contributors
Unlocking Warwick Research Group
Warwick Advertiser excerpt courtesy of Warwickshire County Record Office