Hodgkisson, Roland William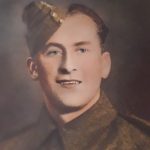 Age: 26
Date of birth: c1917
Parents: Mr W J and Mrs Lucy Hodgkisson
Wife: Single
Address: 27 Emscote Road, Warwick
Occupation: Roland was a hairdresser, working in his father's salon on Emscote Road, Warwick

Jane Nockalls writes of Roland – 'He was single and lived with my grandparents in Emscote Road Warwick. His father was a barber and where they lived is still a barber's shop until this day. He was 26 years old when he was killed in North Africa… My Grandmother had three children. Roland who was killed, my father who died from natural causes  when he was 41 and a daughter who lived through the war and beyond.'
The Warwick Advertiser article from 1940 tells us something of Roland as a person. It was part of a regular feature on local men serving in the forces.
Roland is remembered on his parents grave in Warwick Cemetery:
Military Service
Rank & Number: Private, 3967320
Regiment/Service: 1st Battalion, Parachute Regiment
Brigade/Division: Army Air Corps, 1st Parachute Brigade
Date of death: 3rd February 1943
Cause of death/Battle: Not known
Commemorated/Buried: Commemorated on the Madjez-el-Bab Memorial, Tunisia. Face 35
Awards:
Commemorated locally at: All Saints Church, Emscote
A piece in the Warwick Advertiser, shows that Roland was in Ireland in September 1940, and serving as the company's barber.
Roland served for for three years before his death, with the Royal Welsh Regiment before volunteering for parachute duties. Roland's neice Jane Nockalls writes 'he was 26 years old when he was killed in North Africa. It was his first parachute jump and the Germans were waiting for them and shot them down as they jumped.'
Contributors
Unlocking Warwick Research Group
Jane Nockalls, Roland's neice
Warwick Advertiser excerpts courtesy of Warwickshire County Record Office