Age: 21
Date of birth: 21st October 1921
Parents: William and Florence Mary Horne
Wife:
Address: The Pumping Station, Warwick
Occupation:

Ron was born on the 21st October 1920 in Warwick. He was the youngest of six children Jack Mervyn (1902-1991), Winifred Florence 'Win' (1904-1975) Thomas Frederick 'Tom' (1910-1972), William Reginald Sydney 'Reg' (1914-2009) and Doris (1916-1986). Both his parents William (1880-1942) and Florence (1877-1966) were from Stoke on Trent. Before her marriage Florence had been a potter's warehouse woman.
By the time Ron was born the family had moved to Warwick. Tom and Reg attended Warwick School, as well as Ron. According to the 1939 census the family, without Ron, were living at The Pumping House Station, Longbridge Road. Ronald's father was a sewage disposal engineer. He died just a few weeks after Ron.
This article from the Warwick Advertiser in 1940 was part of a series featuring Warwick men serving in the forces.
Chris Horne gives further details of the family of his grandfather (Ron's brother) "Up to the age of about four, I was brought up with my parents in the basement of the family home in 15 Dormer Place with my grandparents Jack & Dorothy Horne and my great granny Lizzie Potter who lived on the first and second floors. I think the house was original purchased by Lizzie and her late husband Alf Potter. My Aunt and Uncle lived and my cousin lived on the ground floor. According to my late gran, I believe that Alf and Lizzie Potter also owned number 7 Dormer Place which they rented out and which fell victim to the stick of seven bombs dropped on Leamington in November 1940, which also destroyed Liptons and moved Queen Victoria on her plinth."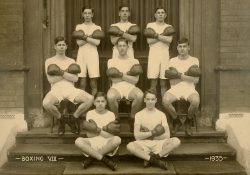 David Horne, Ron's nephew has written to us about Ron's sporting prowess 'At Warwick School, Ron was a keen sportsman competing for the school in the Rugby 1st XV. He also had a trial for Moseley RFC but the war intervened. As well as playing rugby, Ron also boxed at Warwick School and as an amateur in Warwick. As a youth I understand he once boxed against the great Dick Turpin and is the first person to knock him out in the ring. I once met Dick Turpin in Leamington and he told me he remembered that fight.'
Ron is commemorated on the Warwick School War Memorial -situated in the chapel.  David tells us 'it brings back many memories for me having sat opposite it on numerous occasions.'
Military Service
Rank & Number: Sergeant, 949946
Regiment/Service: Royal Air Force Volunteer Reserve
Brigade/Division: 77 Squadron
Date of death: 11th June 1942
Cause of death/Battle: Killed in action
Commemorated/Buried: Commemorated on Runnymede Memorial. Panel 86
Awards:
Commemorated locally at:
Ron enlisted at RAF Cardington, Bedfordshire and was based at RAF Chivenor, Devon. He was with 77 Squadron Bomber Command serving in an Armstrong Whitworth Whitley plane.
Chris Horne writes "My dear late Grandparents Jack and Dorothy Horne often talked of Grandpa's brother Ron (Ronald Guy Horne) who served in the Second World War in the RAF and according to them was lost on a mission over the Bay of Biscay."
Contributors
Unlocking Warwick Research Group
Warwick Advertiser excerpt courtesy of Warwickshire County Record Office
Photograph by kind permission of Chris M B Horne – Ron's Grand Nephew
Further family, sporting details and photographs of Warwick School Rugby XV, Boxing team and Chapel memorial courtesy of David Horne, Ron's nephew