Howlett, Alfred Patrick John (Alf, "Slim")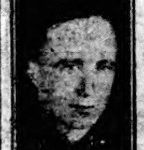 Age: 29
Date of birth: c1911
Parents: Alfred Patrick John and Margarette Howlett
Wife: Eillen Howlett
Address: Parents kept the Warwick Tavern - 27-29 Crompton Street, Warwick
Occupation: Enlisted in the Essex Regiment at 16 years of age and was a Drum Major

Alf was also known as 'Slim.' He was the eldest son of Alfred Patrick John and Margaret Howlett (nee Long) and was born in Q2 1911 in Romford, Essex. He married Eileen Bradley in Q3 1939 in Brentwood, Essex.
Alf's brothers, George (Bill) and William (Harry) also fell and are commemorated on Warwick War Memorial. Their brother John survived.
Their father was the licensee of the Warwick Tavern located at 27-29 Crompton Street. Trading nowadays under the name of The Old Fourpenny Shop. He had the tavern up until his death in 1952 and left his estate of £1709.00 to his widow Margaret who died in 1970 aged 82.
There were at least two other brothers, Walter Aloysius and Leo or Thomas. This is known because Leo. / Thomas Howlett signed Walter's burial slip for Warwick Cemetery. Walter died in Hertford Hill Chest Hospital, aged 44. At the time of Walter's death, in 1964, Leo. / Thomas was still residing at the Warwick Tavern at 27-29 Crompton Street.
Military Service
Rank & Number: Sergeant, 6007870
Regiment/Service: Essex Regiment
Brigade/Division:
Date of death: 16th May 1940
Cause of death/Battle: Died of wounds in Warwick Hospital
Commemorated/Buried: Buried in Warwick Cemetery. CWGC reference - Sec. 81. Uncons. Grave 25. CRO Reference Section D Row 11 Plot 8 'husband' (and sons)
Awards:
Commemorated locally at:
Alf signed up in the first week of the war, having previously given 11 years army service.
He was wounded and returned home but died in Warwick Hospital – he is buried in Warwick Cemetery
Contributors
Unlocking Warwick Research Group
Warwick Advertiser excerpts courtesy of Warwickshire County Record Office