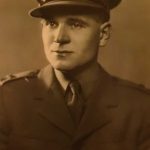 Age: 26
Date of birth: 22nd August 1918
Parents: St John and Kathrine Margaret Lyndon-Adams
Wife: Winifred Lyndon-Adams of Leamington Spa
Address: 60 Cape Road, Warwick
Occupation:

Clifford was born in Warwick on 22nd August 1918.
According to the 1939 census his father St John (1882-1964) and his mother Kate Margaret (1894-1991) were living at 60 Cape Road. St John was a Public Works painter and decorator. Clifford's sister Phyllis (1922-1980) was also living at this address at this time. Clifford had an older sister Mercia (1914-1993).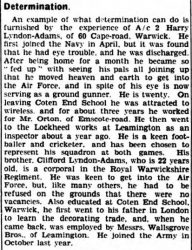 This Warwick Advertiser article from 30th August 1940 tells us a bit about both brothers. The Warwick Advertiser regularly printed items about local men serving in the forces. Clifford's younger brother Harry (known as Jim) was also killed in 1944 although he was initially reported as missing and his death was only confirmed in 1945.
Clifford married Winifred Stranks in Warwick in 1941. They had two children, the youngest born shortly after his father was killed. According to probate records Clifford left his wife £383 11s 1d and in 1945 Winifred was living at 11 Brunswick Street, Leamington Spa.
Military Service
Rank & Number: Lieutenant, 265000
Regiment/Service: 2nd Battalion, Royal Ulster Rifles
Brigade/Division: 9th Infantry Brigade, 3rd Infantry Division
Date of death: 21st June 1944
Cause of death/Battle: Killed in action near Caen
Commemorated/Buried: Buried in the La Delivrande War Cemetery, Douvres, Calvados, France. V.F. 8
Awards:
Commemorated locally at:
Clifford is buried in Calvados, France:
Contributors
Unlocking Warwick Research Group
Warwick Advertiser excerpts courtesy of Warwickshire County Record Office