Lyndon-Adams, Harry (Jim)
Age: 24
Date of birth: 6th December 1920
Parents: St John and Kathrine Margaret Lyndon-Adams
Wife: Single
Address: 60 Cape Road, Warwick
Occupation: Worked at Lockheed Brake Company in Leamington

Harry, – known as Jim, was born in Warwick on 6th December 1920.
According to the 1939 census his father St John (1882-1964) and his mother Kate Margaret (1894-1991) were living at 60 Cape Road. St John was a Public Works painter and decorator. Jim's sister Phyllis (1922-1980) was also living at this address at this time. He had an older sister Mercia (1914-1993).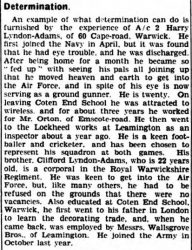 This Warwick Advertiser article from 30th August 1940 tells us a bit about both brothers. The Warwick Advertiser regularly printed items about local men serving in the forces.
Jim's older brother Clifford, was also killed in 1944
Military Service
Rank & Number: Pilot Officer, 175110
Regiment/Service: Royal Air Force Volunteer Reserve
Brigade/Division: 142 Squadron
Date of death: 3rd September 1944
Cause of death/Battle: Aircraft lost without trace on a mission over Italy
Commemorated/Buried: Commemorated on the Malta Memorial. Panel 13, Column 2.
Awards:
Commemorated locally at:
Jim originally enlisted with the Royal Navy in 1940 but was discharged due to defective eyesight, but as the Warwick Advertiser article above tells us, he was keen to join up.
He was later posted to 142 Squadron on 18 August 1944. He was the air gunner in the crew of Sergeant Farley. After one operation with an experienced crew (22/23 August) he flew a further five operations with his own crew.
On the night of 2/3 September 1944 the crew flew Wellington MF631. The target for that night was the marshalling yards at the Italian town of Ferrara. Wellington MF631 was lost without trace. Nothing was heard of the aircraft and it's crew after take off.
Jim was originally reported as missing in 1944 but his parents didn't received confirmation of his death for nearly a year.  He is commemorated on the Malta Memorial along with other members of the crew:
Contributors
Unlocking Warwick Research Group
Warwick Advertiser excerpts courtesy of Warwickshire County Record Office
Details of Harry/Jim's fate courtesy of Pieter Schlebaum, 142 Squadron researcher