Age: 22
Date of birth: c1922
Parents: Frank Edgar Askew and Gladys Amy Makepeace
Wife: Single
Address: 72 Wathen Road, Warwick
Occupation: Worked at Flavels, Leamington Spa

Harold's parents Frank Edgar Askew Makepeace (1896-1974) and Gladys Amy Yardley (1896-1974) were married in Warwick in 1921 and Harold was born a year later.
We have not bee able to find many details of Harold, apart from what is shown in this piece from the Warwick Advertiser.  From this we know Harold was educated at the Warwick National School and worked at Flavels of Leamington.
Harold's father, Frank, was a local Air Raid Warden but had also served in World War 1 in the Royal Engineers.
We would welcome any further information regarding the family.
Military Service
Rank & Number: Gunner, 1127570
Regiment/Service: 92 Field Regiment, Royal Artillery
Brigade/Division:
Date of death: 9th March 1944
Cause of death/Battle: Killed in action at Anzio, Italy
Commemorated/Buried: Buried in Beach Head Cemetery, Anzio, Italy. VII. C. 12.
Awards:
Commemorated locally at:
'Frank's headstone in Anzio, Italy reads '- Proud of You, My Son. Worthy of Everlasting Remembrance'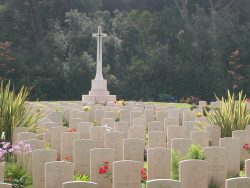 Contributors
Unlocking Warwick Research Group
Warwick Advertiser excerpt courtesy of Warwickshire County Record Office