Age: 23
Date of birth: 1st June 1922
Parents: Ernest and Violet Phoebe Marchant nee Brightling
Wife: Single
Address: 52 Cape Road, Warwick
Occupation: Superintendant Clerk at Myton Hospice Children's Home

John was born on 1st June 1922. His parents Ernest and Violet were married the previous year at St Marks Church in Leamington Spa.
His father Ernest (1893-1979) originally came from Eastbourne and his mother Violet (1891-1968) was from Carshalton in Surrey. He had a sister, Margaret (1923-2013) and two brothers, Edward George (1925-2012) and Allan (b1929). In 1939 the family were living at 52 Cape Road, Warwick.
Margaret married Harold Abbots and Edward married Angela Vaughan.
John left his estate to his mother Violet, so was single.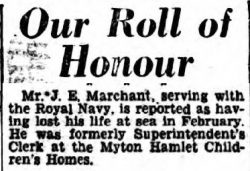 Military Service
Rank & Number: Coder, P/JX 343719
Regiment/Service: Royal Navy
Brigade/Division: HMS Bluebell
Date of death: 17th February 1945
Cause of death/Battle: Lost at sea
Commemorated/Buried: Commemorated on Portsmouth War Memorial. Panel 89, Column 2.
Awards:
Commemorated locally at:
John's ship was torpeodoed by a German U-Boat and sunk in the Barents Sea. The ship exploded and all those aboard were lost.  He is commemorated on the Portsmouth Memorial:
Contributors
Unlocking Warwick Research Group
Warwick Advertiser excerpt courtesy of Warwickshire County Record Office