Age: 23
Date of birth: 1st June 1922
Parents: Ernest and Violet Phoebe Marchant nee Brightling
Wife: Single
Address: 52 Cape Road, Warwick
Occupation: Superintendant Clerk at Myton Hospice Children's Home

John was born on 1st June 1922. His parents Ernest and Violet were married the previous year at St Marks Church in Leamington Spa.
His father Ernest (1893-1979) originally came from Eastbourne and his mother Violet (1891-1968) was from Carshalton in Surrey.
John had a sister, Margaret (1923-2013) and two brothers, Edward George, known as Ted (1925-2012) and Alan (b1929).  Ted and Alan were scholarship boys at Warwick School and Margaret was a scholarship girl at Kings High.
In 1939 the family were living at 52 Cape Road, Warwick.
Steve Abbotts, John's nephew writes 'I still remember my mother telling the terrible story of how a telegram arrived in 1945 which my Granny assumed was from John or my Grandfather saying the ship  had docked in Scotland and he would be on the train home as had happened over the course of the war many times but only to read he was dead, killed in his ship sunk no survivors.
Granny never recovered from the loss of her eldest, funny, fine looking supportive son. They were so very close as my Grandpa had been away for very long period with the RN in WW1 and peacetime cruises to naval  stations around the world. Apparently the family was very poor financially but always laughing as my late mother told me!'
John's sister Margaret went on to marry Harold Abbotts and his brother Ted married Angela Vaughan.  John was single and left his estate to his mother Violet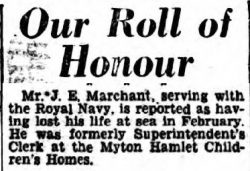 Military Service
Rank & Number: Coder, P/JX 343719
Regiment/Service: Royal Navy
Brigade/Division: HMS Bluebell
Date of death: 17th February 1945
Cause of death/Battle: Lost at sea
Commemorated/Buried: Commemorated on Portsmouth War Memorial. Panel 89, Column 2.
Awards:
Commemorated locally at:
John's ship was torpedoed by a German U-Boat and sunk in the Barents Sea. The ship exploded and all those aboard were lost.  He is commemorated on the Portsmouth Memorial:
Steve Abbotts, John's nephew, writes of John and his family's Naval service:
'My uncle John Marchant a seaman in the Royal Navy was killed on board HMS Bluebell, a corvette, when it was torpedoed and blown to smithereens in northern Russian waters having escorted an Artic convoy from the UK in 1945. He was a coder ….a smart young man but his education had been disrupted by my grandfather's naval postings etc.
His name appears on the WW2 memorial to the lost Royal Navy crews but was only added later to the memorial in Warwick when my Uncle Alan became involved I was told.
John was my mother's eldest brother…the eldest of three boys. His brother Ted served in the Royal Navy and was in charge of a landing ship on D Day.  As John's ship, HMS Bluebell, escorted part of the invasion fleet at D- Day,  I wonder if either of them knew how close they were to each other, experiencing some of the same risks….'
Their father was a petty officer in the RN  in WW1 serving on battleships at various battles including Jutland and was called up again from the reserve for WW2.
John's younger brother Alan was too young to serve in WW2 but joined up after the war.
My cousin Tim followed Alan his father into the Navy and served as an officer on submarines.'
Contributors
Special thanks to Steve Abbotts, John's nephew
Unlocking Warwick Research Group
Warwick Advertiser excerpt courtesy of Warwickshire County Record Office