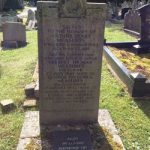 Age: 26
Date of birth: 9th December 1914
Parents: Arthur Henry and Ethel Measures
Wife: Single
Address: 63 Emscote Road
Occupation: After graduating from Oxford, Herbert worked in Trididad as a Tropical Agriculturist. He then worked for the Colonial Office and was posted to Kenya.

Herbert was born in 1914. He had an older brother, Arthur Bradley (1909-1999), an older sister, Marian Ethel (1911-1999) and a younger brother George Frederick (1916-1942).
Herbert's parents were Arthur Henry (1877-1943) and Ethel Measures nee Presgrave (1877-1968). They had married in Nottingham in 1908. By 1911 they were the Master and Matron of The Warwick Poor Law Institution (Warwick Workhouse) at 91 Lakin Road, Warwick.
Herbert and his brother, George both attended Warwick School and were prefects.
Herbert's sister, Marian married Gabriel Glynn in 1937 and , at the time of the 1939 Register, was listed as a "visitor" at the Workhouse, doing "unpaid domestic duties." Her husband is not listed, as he travelled abroad a great deal. He was originally from Ireland. Marian departed for Lagos, Nigeria in December 1939 to join her husband. He died in 1943 and Marion must have returned to England some time after this.
Herbert also travelled abroad before the outbreak of war – sailing on September 1937 for Trinidad on the ship Inanda. He is listed as a "Colonial Agricultural Scholar." He returned in June 1938 on the Inkosi.
Herbert's brother, George, also died in the war, in 1942 and is also listed on Warwick War Memorial.
Herbert left his estate of £713 16s 3d to his sister Marion. Interestingly, his father Arthur, who died in 1943, is listed on the same page of the Probate Register and also left his estate (of £804 16d 8d) to Marion.
Arthur is described as a "Retired Public Servant" on his Burial Slip for Warwick Cemetery. He and Herbert's mother, Ethel, were living at 63 Emscote Road at the time of his death. Ethel died in 1968. She is also buried in Warwick Cemetery.
The second piece from the Warwick Advertiser below concerns the retirement of Arthur and Ethel from the Warwick Poor Law Institution and shows how well loved and respected they were.
Military Service
Rank & Number: Second Lieutenant, 328638
Regiment/Service: King's African Rifles
Brigade/Division:
Date of death: 27th July 1941
Cause of death/Battle: Not known
Commemorated/Buried: Buried in Addis Ababa War Cemetery, Ethiopia. 2. F. 3.
Awards:
Commemorated locally at: Warwick School and commemorated on his father's grave in Warwick Cemetery
Contributors
Unlocking Warwick Research Group
Warwick Advertiser excerpts courtesy of Warwickshire County Record Office
Cemetery photograph courtesy of Commonwealth War Graves Commission (CWGC)